To get closer to those visiting O2 shops across the country, O2 Czech Republic is running its marketing content on displays supported by Scala digital signage software. Scala partner Syntex handled the roll-out of this project. To catch the attention of anyone visiting the 150 O2 stores dotted around the Czech Republic, O2 is using its digital signage network to support national marketing initiatives during which the company's ad campaigns run on in-store screens.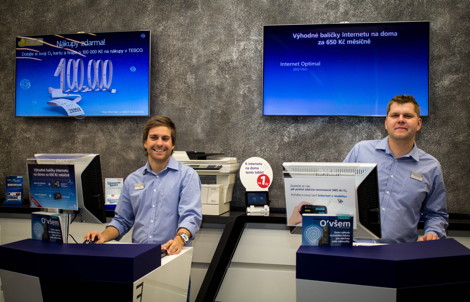 As part of the roll-out, campaign visuals, product information and special offers are displayed across 205 wall mounted screens, 32 of which are portrait-mode, and driven by 170 players. To enable the easy creation and management of content on its digital signage network, O2 opted to deploy Scala Designer and Scala Content Manager as key components of the network. At O2, the marketing specialist team centrally manages the network content, while some content can be managed directly by store consultants who use pre-existing templates distributed as a message. All content is distributed over terrestrial IP, a solution that works well with O2's own data network.
This new network allows O2 to respond to local sales results and control what marketing communications are seen by customers, in any location, at any given time. Communications can be boosted immediately when and where they are needed, allowing the company to make ad-hoc offers, special deals or events available to customers in a specific location at a moment's notice.
"Scala has delivered a great solution that allows us to quickly create and manage all content across our digital signage network," said Ondrej Zeman, Retail Specialist – Indirect Marketing at O2, who commended the excellent service provided by local Scala partner Syntex. "We can instantly react to current market needs and promote the appropriate products and services."
"The Scala solution, with its variety of approaches to content creation, also allows usto change the overall appearance of each store from a central location," added Ondrej Zeman.
The company has already been able to track the success of digital signage-only initiatives by using passwords or codes directly linked to a location and offer. O2 is now considering the possibility of connecting its POS database into the digital signage network for even more streamlining.