Adrian J Cotterill, Editor-in-Chief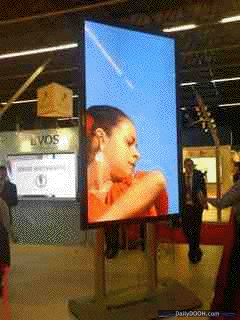 The centre piece of the Panasonic stand at ISE was their 150" screen (previously only shown at CES and not being shown we believe at Screen Expo Europe) – it was shown roped off (as in an Art Gallery for example – very clever) and attracted a lot of interest.
If you looked closely enough there were several dead pixels bottom left of the screen – you would be annoyed if you had bought one and this happened, am I right?
The picture above shows their 103" screen shown on one of the UK partners' stands. The screen could be physically rotated Portrait to Landscape and back etc and the content looked clear and crisp.