Adrian J Cotterill, Editor-in-Chief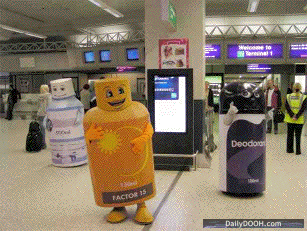 Don't laugh cos' we think this is actually quite good. As well as doing the two huge screen installs in Terminals 1 and (now) 2 at Manchester Airport, Pixel Inspiration's very own creative studio came up with the on-screen character 'Danny Deodorant'. He was liked so much by the airport authority that he was also brought to life as seen above!
Danny's role in life was to help protect us (my god another PUN!) from terrorists who might slip something nasty into bottles of water, tubes of toothpaste, face creams and deodorants and get them on board an aircraft (heaven help us).
The on-screen Danny Deodorant campaign was very effective we are told in stopping this evil (and increasing the profits of the airport authority air side when all the passengers have to re-buy what they were encouraged / told to throw away).
Seriously though great to see a digital screen character come to life and cross over into more mainstream advertising.