Adrian J Cotterill, Editor-in-Chief
Premier Retail Networks won an ADDY award from the Greater San Francisco Ad Club for this endcap segment promoting Listerine Agent Cool Blue.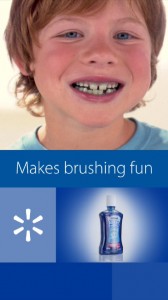 The award was a Bronze in the Out of Home/Outdoor Board/Digital or Animated category for a series of six video segments promoting Listerine Agent Cool Blue and designed to play on endcap screens on Walmart's Smart Network.
The ad club believed that the creative demonstrated in a simple, effective way how the pre-brush tinting rinse works (used before brushing, it tints teeth blue so kids pay attention when cleaning their teeth).
PRN tell us that "the most effective strategy for endcap executions is to create a series of short format modules to keep the attention of the shopper"
For Listerine Agent Cool Blue, this involved producing a number of different segments that featured a mom and two kids that helped keep the creative fresh and compelling.
The ADDYs are the advertising industry's largest and most representative competition, attracting more than 50,000 entries every year. The San Francisco ADDY Awards is the first of a three-tier, national competition, conducted annually by the American Advertising Federation (AAF).
Richard Fisher, PRN president told us "Given the high caliber of the San Francisco advertising community, we are extremely proud to be recognized with this award"
He added "It is a tremendous achievement for PRN as a whole and particularly our Creative Strategy and Production team. Special recognition goes to creative director Dylan Jones, Animators Adam DeGregorio and Scott Hess, and producers Jeni Sanborn and Rinchen Lama."