Adrian J Cotterill, Editor-in-Chief
I'm really excited to have been invited to speak tomorrow at the 55th FEPE Annual Congress in Vienna and join a truly stellar line up of outdoor heavyweights.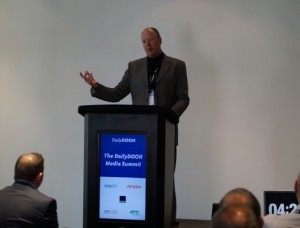 My presentation entitled 'Look Out, It's Digital!' will explore…
What's good, what's best, what's better and what's trending in the world of digital outdoor
Software suggestions for the Digital Outdoor marketplace
Why you should steer clear of anyone who mentions the words 'Programmatic Buying'
Whether Outdoor should "look, feel and smell like online"
I am hoping to help end the event end on a real high note. The Congress will end with…
CEO of the Outdoor Media Association (OMA) down under, Charmaine Moldrich telling the audience 'How to be taken seriously?'
Francois de Gespe Beaubien reprising his very highly regarded 4A's Presentation 'OOH Looking Up!' (a presentation he is also keynoting at The DailyDOOH Investor Conference in NYC on Wednesday October 22 by the way)
Kinetic's Stuart Taylor asking 'What can we all do better with digital?'
err, which just leaves me twenty minutes before FEPE President Karl Javurek throws me off stage (trust me, it has been done before) and wraps up the Congress's proceedings!