Adrian J Cotterill, Editor-in-Chief
DMaSStech has installed a CAYIN digital signage system in 28 i-mobile shops (the biggest mobile phone distributor) in Thailand.
The in-store digital screen network, implemented by Digital Media and Signage Solution Technology (DMaSStech) and is remotely managed by the head office and conveys updated advertisements and brand image via branches instantly.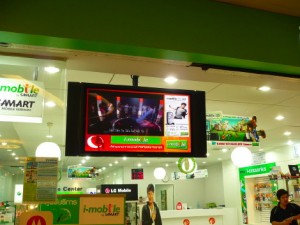 i-mobile Shop are located mostly in department stores with around 30 branches in Bangkok and around 50 branches in other provinces.
Pichet Suppana, Senoir Manager, retail development of i-mobile Shop told us "We believe the in-store digital signage system can create a fashionable, high-tech shop image to all shoppers and pedestrians,"
He added "More than a dynamic platform to showcase i-mobile's products and services, we look forward to building a digital media for our partners and other advertisers who share the same idea with us."
Sathian Thancharoenkit, the Managing Director of DMaSStech told us "This implementation is only the beginning for i-mobile Shop. In the next phase, they plan to have interactive media with mobile phone, audio text and WAP by using digital signage."
About DMaSStech

DMaSStech Company Limited is established with the vision that the digital signage will soon be one of the most effective tools for the marketing communication and public relation, mass and widespread in the media world. As can be seen in the leading organization such as department store, bank, leading fashion store, use digital signage to communicate with their customers and/or employees.

With the mission to be the market leader in providing digital signage solution in Thailand and regional markets, DmaSStech is focusing its resources, commitment and effort to move the company forward and exploring expertise in the new updated solution to ensure the right solution to customers' need.

The company has served more than 40 corporate customers with our digital signage solution providing both the stand-alone solution and the networked solution.