Adrian J Cotterill, Editor-in-Chief
We met these folks over in Mumbai last November and had a good chat with them about SaaS / ASP and our joint love of everything open source and most things Web 2.0.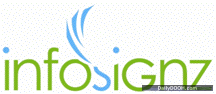 This isn't the first time we have covered what purports to be free Digital Signage software but it's interesting that these folks have now done a soft launch and it looks like they will be spending considerably in Q2 on marketing.
InfoSignz is described as an on-demand SaaS application that allows businesses to set up their digital signage networks for free.
On the 'player' / client side they support both windows and linux.
The 'designer' side – the place where you design screens, create playlists and see your reports, it's windows only.
In the next quarter, they will be launching paid premium components, interactivity tools, enhanced scheduling features, premium content, customization and integration possibilities with data sources etc etc.
Infosignz is a commercial company and seems to have a workable revenue model in place. It will be interesting to see the take up.