It was great to see both BF Group and Esprit Digital at Screen Media Expo Europe last week especially as it would have given visitors the opportunity to compare two of the leading UK based digital 6 Sheet manufacturers.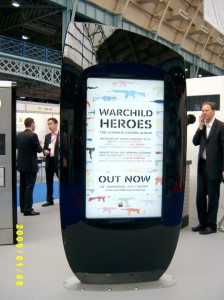 Both companies had announcements to make but unfortunately neither could go public before or during the show.
BF Group is to supply BackLite Media in Dubai with sleek double sided 57in LCD Pods which will be installed in a number of shopping malls in Dubai and later throughout the Middle East.
James Bicknell, Managing Director of BackLite Digital told us "Our successful, traditional out of home media is growing fast into the digital signage world. We are proud to have secured the exclusive rights to this new elegant digital Pod for Dubai's shopping centres and for a future expansion in the whole of Middle East".
We are told by one of the big outdoor media owners that the Esprit Digital announcements are exciting too.