Adrian J Cotterill, Editor-in-Chief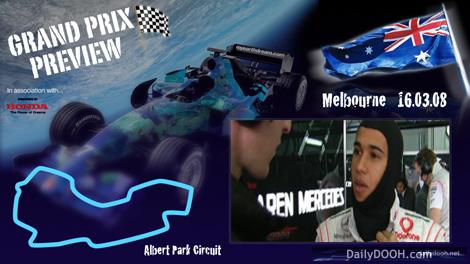 Last week we hinted at some exciting developments with our DailyDOOH Distribution / DailyDOOH.net brand extension…
Grand Prix Preview is a series of 18 short programmes aimed specifically at digital screen networks, helping them cover the 2008 Formula 1 Grand Prix season.
Each Grand Prix Preview covers a specific race and to make sure that it is relevant it is put together the Wednesday before each race weekend.
It covers all of the race build up, the current championship leaders, points totals, team news, driver information, track layout etc and will catch all the excitement of the Formula 1 Grand Prix season.
Each programme: –
is free (all content rights have been agreed)
is language independent (visuals / message will work in all countries)
will be made available for download the Thursday before Sunday's race.
is made up of (three) 30, 120 and 30 second video clips
can be scheduled anyway you choose up until Race Day
uses a template, like shown, specific for each event
will be available in most of the common formats and file types
If you want to bring the excitement of Formula 1 to your screen network, however big or small, and irrespective of where your network is in the world then drop us an email and we can give you some more details.
The first race is in Melbourne, Australia on Sunday 16th March 2008.
GPP Content will be available on Thursday 13th March but it is important that you sign up well before then so that we can take you through our distribution method and give you access.