Adrian J Cotterill, Editor-in-Chief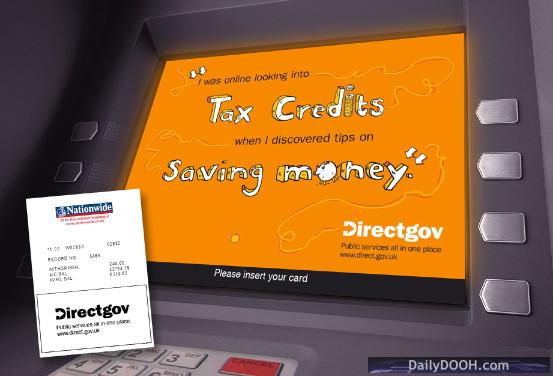 Directgov, the UK government's flagship digital service, is promoting its own financial advice portal using an ATM:ad campaign running at 900 ATMs in England.
The campaign was bought by Out of Home Specialist Posterscope for four weeks and was set to deliver over 5 million one-to-one transactions and 1.25 million take-away receipts.
Jack Vincent at ATM:Ad told us "It has been running most of February and into March"
The campaign of course has been made possible through i-design's ATM advertising offering called ATM:ad. It will enable Directgov to show dynamic, onscreen advertising including tax credit advice and money saving tips during customer transactions AND provide a printed reminder on the front of every customer receipt.
Maxine Mackenzie, Head of Marketing at Directgov interestingly noted that they "chose ATM digital advertising after a recommendation by the Central Office of Information"
It's great that Posterscope booked ATM:ad for this as it is obviously such a nice fit – shopping Malls also you would have thought may have worked well though we have not heard that Avanti Screen Media or Vision Media Group were given it.
The advert itself seems incredibly compelling when presented at you when you go to take cash out of your account!!