Adrian J Cotterill, Editor-in-Chief
As part of the Digital Out-of-Home Strategy Summit which takes place Tuesday, March 28, 2017: 9:00 AM – 5:00 PM ahead of #dse2017 proper we're hosting a Lunch and Learn session from 11:30 AM – 1:00 PM entitled Global DOOH INSIGHTS.
Not only will attendees to the day-long summit get fed at this time, they will also receive DOOH Insight, Knowledge and Opinion from expert speakers who will cover Europe, Australasia and the Americas.
I will chair three industry experts, namely Dirk Huelsermann, Managing Partner, DeBere Capital Partners; Adam Cadwallader, Group Director, oOh! Media and Rob Winston, The Winston Research Group (shown below left to right). We will discuss the DOOH industry globally – first looking back ten years, then at the current state of DOOH in each geography and finally looking forward to see what the next few years may bring.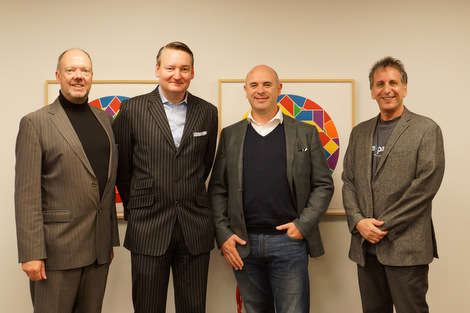 For anyone interested in learning about the differences in DOOH in Europe, Australasia and the Americas and the vagaries of each geography this is a MUST ATTEND session.
Like any well prepared panel, we've already met (the picture above was taken during #NYDSW) and we're already planning on how we can wow the audience and impart as much wisdom as possible in the shortest amount of time!
Global DOOH INSIGHTS
Digital Out-of-Home Strategy Summit
Tuesday, March 28, 2017: 9:00 AM – 5:00 PM
Session Type: CONFERENCE
Session Number: DOOH

The Digital Out-of-Home Strategy Summit offers a high-level, 35,000-foot perspective on the state of the industry. The conference serves as a meeting place for brand marketers, ad agencies and network operators, covering what each constituent needs to know about digital out-of-home media and its role in the evolving digital landscape. The conference addresses present and future issues and challenges, including how the medium is measured, who sees it, how effective it is, where it's located, what it costs and where it fits in the media buyer's planning.