Adrian J Cotterill, Editor-in-Chief
The folks at AVNationTV, who have quite simply, pioneered the way that blogger / influencer AV news dissemination and reporting is done – both on a weekly basis and at all the major AV trade shows is doing, not one but two live podcasts from New York Digital Signage Week this year.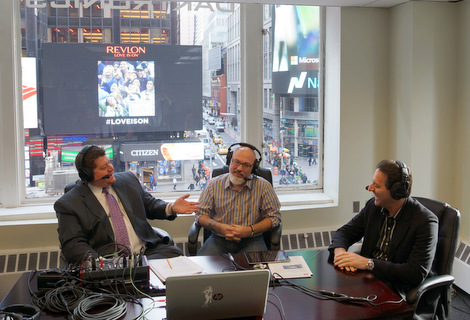 Not content with simply repeating the innovative 'Live From Times Square' event they did last year with Daktronics on Monday October 24, 2016 between 14:00-16:00 (it will be 'live on air' from 15:00 EDT onwards*) they are doing another live podcast at the same time on the Wednesday.
Christie Experiential Network's Executive Vice President, Global Media, Kevin Romano has kindly loaned the use of his studio to allow 'AVNation Live from the CEN Studios' which will take place 14:00-16:00 on Wednesday October 26, 2016,
We understand that Monday's podcast will be more OOH, DOOH, advertising, digital signage oriented and Wednesday's will likely be a little more technical, i.e. what AVNation are best known for.
You can watch the live stream of this afternoon's Live From Times Square podcast at 15:00 EDT here