Adrian J Cotterill, Editor-in-Chief
The Instagram sensation Clean Eating Alice (Alice Liveing) is capitalising on the power of Digital Out-of-Home to promote her new book, with a social media-driven Outdoor campaign with Hello London, the new media partnership with TfL and Exterion Media, and content display technology TINT.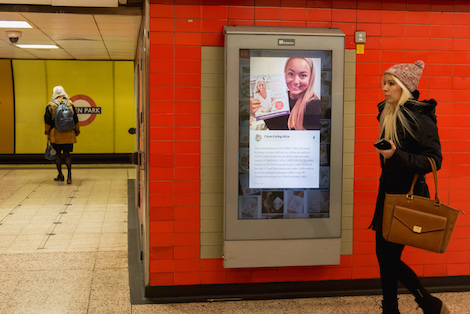 Promoting Clean Eating Alice Eat Well Every Day: Nutritious, healthy recipes for life on the go, the two-week Social Out-of-Home (SOOH) campaign displays user generated content from Facebook, Twitter and Instagram, including content tagged #EatWellEveryDay. The activation is running across 100 high-impact digital screens across London Underground, encouraging people across the Capital to buy the book.
Alice Liveing told us "I love the way the campaign mixes the huge reach of London Underground with dynamically updating ads that feel really fresh and original. I created the recipes in Eat Well Every Day for people who want to eat healthily but lead busy lifestyles so London Underground seemed like the perfect place for me to promote it. Instagram is where it all started for me – it's such an amazing way of engaging with fans and getting instant feedback on everything I do – so the way the ads display my social posts live really showcases what I'm all about to a whole new audience. I love it!"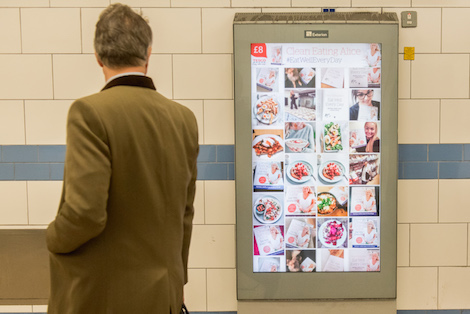 Tim Last, Head of Innovation at Exterion Media, said "Alice's campaign is a brilliant example of the dynamic capabilities of Out-of-Home medium. Reaching target audiences using our Hello London offering, this activation is a great demonstration of what can be achieved when a creative is so relevant to an environment – connecting and tailoring Alice's story to the London audience who are in the 'New Year, New Me' frame of mind."
The campaign was planned and booked by MediaCom and Kinetic.