VMO has taken over the media network at Fit n Fast, expanding its suite of health clubs in urban locations. The acquisitions aims to strengthen VMO's presence in health club locations throughout NSW, ACT and VIC in Australia – a further 331 screens have now been added to the multi-media network expanding the full health club footprint to almost 5,200 screens.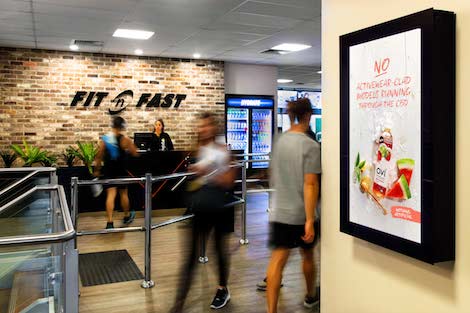 VMO's Managing Director Anthony Deeble told us "I'm delighted to announce the expansion of our health club footprint and offer our existing advertisers further opportunities across these assets. We are now reaching a broader range of active Australians than ever before with a 24 hour digital presence."
Fit n Fast was formed in 2010 by a consortium of leading Australian fitness experts, including the founder of Fitness First; Tony de Leede. Today they have 20 locations with an active member base of 29,000.
Fit n Fast become synonymous with a value and accessibility proposition by offering 24 hours access and virtual Group Exercise. Their strategy is to offer a fitness solution for the whole community.
The screen network, now being sold under the VMO Active brand targets visitors 24 hours a day in high traffic, high dwell locations.
VMO recently announced plans to deliver 10,000 digital screens and grow content in 2017. VMO's national Digital Out-of-Home network now stands at over 9,250 screens making VMO Australia's largest digital outdoor network.