In a move that surely cements its leading position in UK Digital Out-of-Home, JCDecaux has added a new extra-large digital screen, The West Hill Tower, to its already impressive network that is fast approaching 600 million digital viewed impressions.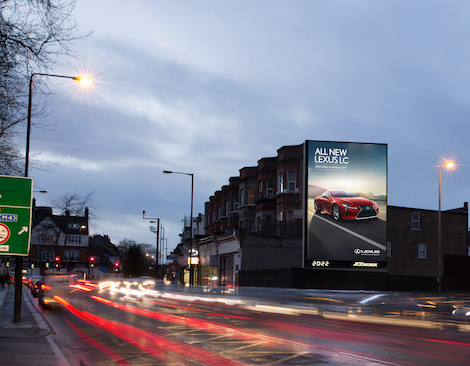 Spencer Berwin, Co-Chief Executive Officer at JCDecaux UK told us "I am delighted we have reached yet another milestone in our digital journey with the launch of our 50th extra-large digital screen in the UK. The West Hill Tower illustrates our sustained investment in quality, high impact digital and our commitment to doubling our digital eyeballs by the end of 2017".
Situated by the South Circular and A3, The West Hill Tower is situated in the heart of the highly affluent South-West London corridor with a large audience heading to and from Central London.
This is JCDecaux's 50th extra-large premium digital location and follows Route's latest data release that re-confirms the Company's leadership in Digital Out-of-Home (DOOH). The network of 50 digital screens delivers an extra 40 million viewed impressions towards the company's goal of reaching #onebillioneyeballs by the end of 2017.