Birmingham is the 'community capital' of the UK, according to new research from Exterion Media's award-winning national consumer panel work.shop.play., which reveals how urbanites feel about different cities across the UK.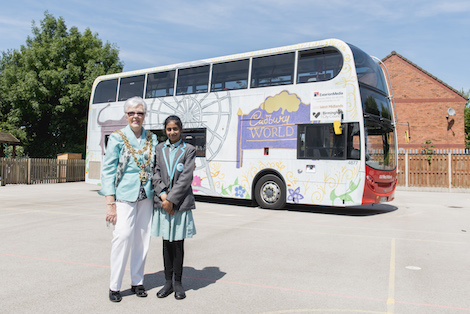 When it comes to what makes a great city, Brummies (a native of the British city of Birmingham) place more emphasis on friendly people, community feel and diversity than the rest of the UK; over two-thirds (68 per cent) of those living in Birmingham say these aspects are what makes a city a great place to live.
When asked to choose their favourite things about their city, Brummies also rated the shops (54 per cent), transport links (53 per cent) and restaurants (41 per cent) higher than those living in other UK cities.
Clearly supporting development in the city, over half (55 per cent) of Brummies feel positive about the new High Speed Rail (HS2) investment, believing it will be good for Birmingham's economy and create more jobs. Nearly half (43 per cent) say they have noticed an increase in young families and couples moving to Birmingham from London.
Isra Younis, aged 10, from Ark Tindal Primary Academy (shown above) was crowned the winner of the competition by a judging panel including Exterion Media, National Express West Midlands and Birmingham City Council. Isra's bus wrap design features the iconic Bullring Bull, as well as other Birmingham landmarks such as Cadbury World and the Birmingham Big Wheel. The wrapped bus will be live on the streets of Birmingham for a minimum of four weeks.
Martin Hancock, Development Director at National Express West Midlands, said: "Hundreds of our buses are used every day by Birmingham's citizens and visitors to experience and enjoy the city. So we're delighted that Isra's design, which shows what makes this city so great, will be on one of our Birmingham buses. It's no surprise to us that the research by work.shop.play. showed that Brummies think the sense of community and culture is the best thing about the city – we completely agree."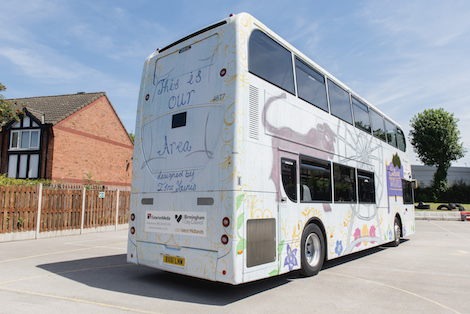 In addition to her winning design being printed on the bus, Isra won tickets to Thinktank Birmingham Science Museum for her family and classmates.
Dave King, Managing Director at Exterion Media UK, told us "Birmingham is a hugely diverse city that is rich in culture and radiates community spirit. It's great to see how our research enriches our view on the audience in Birmingham, demonstrating what an influential and important region this 'community capital' is. We are proud to be investing with our transport partners to drive development in cities and connect urban areas, and are delighted to use our iconic wrapped bus advertising as a way to celebrate the city and its people. Isra's vision of Birmingham will now be on tour around the city, contributing to the spirit that Brummies value so highly and enhancing the urban environment."
The research is part of a nationwide initiative from Exterion Media, Urbanology, designed to celebrate and promote key cities outside of London. Exterion Media invited primary school pupils from across Birmingham to take part in its Kids' Wrapped Bus creative competition, launched in partnership with National Express West Midlands and Birmingham City Council. Over 100 school children submitted colourful and creative designs depicting what they love about Birmingham, to be wrapped by Exterion Media around one of National Express's double-decker buses.