Adrian J Cotterill, Editor-in-Chief
LA ROCHE-POSAY is promoting their new innovative body lotion: LIPIKAR Lotion among an active lifestyle audience. ZOOM has integrated LIPIKAR Lotion into premium fitness centres creating awareness and driving immediate trial through in change room signage and sampling.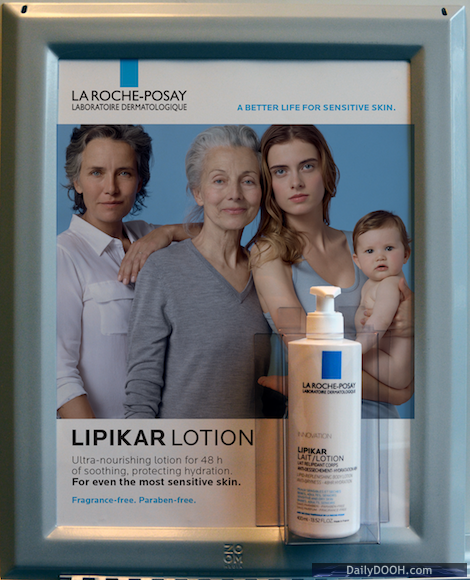 Jasteena Gill Marketing Manager at La Roche-Posay Canada said "Since hydrating your skin post showering is a natural next step, we wanted to facilitate this experience by sampling LIPIKAR Lotion directly in the changing rooms." says Suitable for all ages, with 48hr hydration and an ultra-nourishing, fragrance-free formula, LIPIKAR Lotion is truly the perfect fit for exposing the active lifestyle audience to La Roche- Posay."
The campaign is currently promoted in ZOOM's Fitness network in the greater Toronto and Vancouver areas. Along with the static advertisement, an easy pump bottle of LIPIKAR Lotion is placed in the custom static board allowing members to try the lotion right after showering. Thanks to the bottle's new design with less pressure to operate the pump, it's very pleasant to handle.
Chris Corvetti, Zoom's VP Sales and Marketing said "It's the right audience, at the right time, in the right environment. We're offering La Roche-Posay contextually relevant sampling to consumers who are on the path to purchase. Nielsen's onsite study states that 85% of gym goers run errands within two hours of their workout."
The campaign is live until beginning of August.
La Roche-Posay is a division of L'Oréal Canada, a wholly-owned subsidiary of L'Oréal Group, the largest cosmetics company in the world. Headquartered in Montreal, L'Oréal Canada had sales of $1.07 billion in 2014 and employs more than 1,200 people. The company's prestigious portfolio of 35 brands encompasses all aspects of beauty. Through the La Roche-Posay Foundation, under the aegis of the Fondation de France, the brand has been actively supporting research in the clinical, biological and pharmacological fields of dermatology as well as supporting and encouraging generous initiatives from dermatologists.