DPAA, the leading global organization for everything digital out-of-home, has announced that Dan Hight, SVP, Channel Partnerships, GroundTruth (formerly xAd), has been added to its Board of Directors.
Barry Frey, President & CEO of DPAA, told us "I feel so fortunate to be able to work closely with a Board of Directors that can best be described as an all-star team of industry thought-leaders and digital innovators. Dan's addition to this group adds another layer of insight and expertise that will help guide us as we lead the way in the 'digital out-of-home everything' revolution."
Other DPAA Board members include; Marc Kidd, CEO, Captivate Network; Peter Krieger, President & COO, Adspace Networks; Mike Maas, CEO, AMI Entertainment; John Partilla, CEO, Screenvision; Burr Smith, Chairman & CEO, BroadSign; and Andreas Soupliotis, CEO, Hivestack (nee Ayuda[x]).
François de Gaspé Beaubien, Chairman & COO of Zoom Media, is Chairman of the Board. He has held that position since 2013 and has been a Board member since 2006. DPAA's Board of Directors, which meets quarterly, provides strategy and direction for the organization. Elected by the general membership, the Board consists of leaders in the DOOH space who work collectively to shape and strengthen the industry.
Dan Hight said, "I'm extremely honored to join the Board of Directors at DPAA, which has been at the forefront of bringing digital expertise to the out-of-home industry. GroundTruth has been a strong supporter of the out-of-home industry, as in many ways it was the original location-based ad. As the industry continues to evolve, we are excited to see how leveraging the power of location data will further enhance digital out-of-home advertising."
GroundTruth is a global location technology company that drives results with real data. We believe in the power of place. Build your brand, increase sales and grow your business by building off what real people are doing in the real world, mapped using our proprietary Blueprints technology. Through its data foundation, GroundTruth sees two out of three smartphone users in the U.S. and more than 20 billion physical visits annually across 21 countries globally.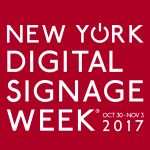 On Thursday November 2, 2017 during New York Digital Signage Week, GroundTruth are holding a think-tank and happy hour at their offices; 17.30 – 19.00 by invite only. As well as drinks and canapés and a wonderful view (their offices are on the 60th floor of the Freedom Tower), CMO Monica Ho and Dan Hight will be quizzed 'on air' in front of the assembled audience on who are GroundTruth and what makes them so unique.
The historic Roosevelt Hotel, known as 'The Grand Dame of Madison Avenue' is the official hotel for New York Digital Signage Week. Attendees to any of the week's events are eligible for preferred hotel rates.