Five years ago (in 2013), the DPAA, NEC Display Solutions of America and the Ministry of New Media put their heads together and agreed that they should try and hold their prestigious New York events in the Fall / Autumn the same week – thus was born New York Digital Signage Week – now of course in its fifth year and something of an unprecedented success with over 32 individual events being held in two week's time.
The very next year, Barco stepped up to the plate and have, ever since, been holding the unofficial launch party for the week on the Monday evening.
They're doing the same again a week today, this time though in a new, bigger, much more exciting venue; namely Spring Studios, 6 St Johns Ln, New York, NY 10013 which is a little more central than their old Barco Demo Center / Niles Creative Studio down on Broadway.
Over the years their event has been known for its GREAT food (let's get our priorities straight here), the SUPERB networking opportunities (made even better, cos' it's at the beginning of the week, we feel) and they always, always have a BRILLIANT speaker.
Manolo Almagro, Managing Partner at Q Division is a man who needs little introduction to those in the digital signage, retail, err and karaoke worlds. He leads Q Division, a global consultancy dedicated to offering best in class IoT, connected commerce solutions, data-driven innovation strategies and emerging technology. Q Division provides strategic and executional support for retail tech prototypes, field tests and large scale, enterprise class technology deployments.
Manolo was appointed an AVIXA (nee InfoComm) Emerging Trends Fellow for Digital Signage in June 2017 and (if he stands on a chair) can be seen leading retail and technology tours at CES, NRF, ISE, DSE, InfoComm, Mobile World Congress and elsewhere. In fact he is is officially a 'Retail + Emerging Tech Subject Matter Expert: Mobile World Congress Tours' for Mobile World Capital Barcelona and an 'Emerging Tech – Subject Matter Expert' at NRF – how impressive is that?
His singing voice gets him nowhere (shown above at the Rocktober Mixer last year during NYDSW '16) but the rest of his life and work experience makes him the perfect judge for where retail and technology is at, right now. He truly is a superb speaker.
The subject of his speech will be 'Fast Forward: Retail Formats of the Future'. He'll be examining; What will the future hold?
Retailers are of course, testing smaller foot print stores, reducing the number of store locations and trying out new types of 'Pop-Up' formats whilst at the same time, e-commerce companies like Amazon, Warby Parker and BirchBox are opening physical retail locations; creating 'experiential retail' types of stores.
He'll be asking: –
What is Experiential Marketing; why does it work for Millenials.
How to rethink the store design and locations
How Traditional Retailers are taking on the challenge
and will give the best examples of Ecommerce companies who are building new physical stores.
The event this year takes place Monday, October 30, 2017 from 4:00 PM to 7:00 PM (EDT). The evening is held in such high regard tickets go very, very quickly – in fact at this moment, there are only a handful of tickets left, Ed.
You can register for the event here. Barco is an official sponsor of New York Digital Signage Week.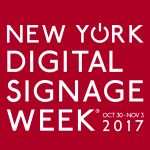 PLEASE NOTE that on the night EVERYONE will need Photo ID to get into the building.
In addition, INTERNATIONAL visitors will need Photo ID and to have their Passport number to hand (so in fact, they may well want to bring their passports with them!)
The historic Roosevelt Hotel, known as 'The Grand Dame of Madison Avenue' is the official hotel for New York Digital Signage Week. Attendees to any of the week's events are eligible for preferred hotel rates.