WCRS and Leo Burnett have taken the top prizes in Ocean Outdoor's eighth annual digital creative competition with award-winning concepts for Sky Ocean Rescue and The British Dyslexia Association.
Activist brand Sky Ocean Rescue, set up by media owner Sky, takes the commercial prize for The Ocean's Most Terrifying Killer, a campaign created by WCRS which will transform Ocean's screens into underwater seas to illustrate the dangers to marine life of plastic waste.
Created by Leo Burnett, The British Dyslexia Association's campaign uses long uses dynamic long form copy on screens with audience recognition technology so show what it's like to live with dyslexia. The longer people stop and look at the screen, the harder the words are to read. A Moment of Dyslexia took the Charity first prize.
Ocean's international prize went to MullenLowe London for Let's Colour the World for Dulux; and the agency secured both commercial and charity second prizes for Persil and the Art Fund.
Ocean chief executive officer Tim Bleakley told us "The eighth competition has given us record entries and an impressive number of outstanding creative ideas. There are deserved wins for WCRS and Leo Burnett and no less than three awards for MullenLowe London.
"The winners are striking for the power of their visual ideas and innovative use of DOOH technology to achieve business objectives. They've been recognised for their immediacy, impact and relevance to their target audiences. I congratulate the winners and look forward to seeing their concepts brought to life."
Competition was stiff, with a record 131 entries which were judged by a panel of 15 advertising industry experts and my Dad.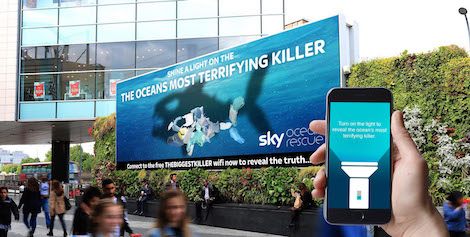 Commercial Category
First prize
Sky Ocean Rescue – The Ocean's Most Terrifying Killer
Agency: WCRS
Nowhere is a piece of plastic more prevalent than at shopping centres. On Word Ocean Day, WCRS transforms Ocean screens into deep-sea worlds of menacing shapes casting strange shadows. People can connect to the screen via the free wifi turning their phone into a virtual torch to see what is casting the shadow. At this point, their torch reveals that the biggest threat to our oceans isn't sharks or sea-monsters, it's plastic. Volunteers will hand participants re-suable bags, tackling one of the issues of plastics waste right where is matters.
Second prize
Persil – Get Out Here
Agency: MullenLowe London
To get more children outdoors and active in their local places of play, Persil live streams footage to Ocean screens from local parks, featuring live data and dynamic copy to show the walking distance to get there. The big idea is to get families out here.
Third prize
Ariel – Look like New
Agency: Leo Burnett
This idea uses RFID technology to track items of clothing as shoppers leave a store with their purchase. As they walk towards an Ocean screen, Ariel serves them with personalised messages delivered by models, congratulating them on their new garments. The Look Like New message is simple by telling the shopper about the benefits of using Ariel 3in1 pods to keep their new clothes pristine.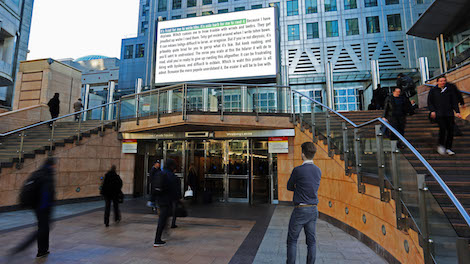 Charity Category
First prize
British Dyslexia Association – A Moment of Dyslexia
Agency: Leo Burnett
In a bid to create a more dyslexic-friendly society, this campaign uses long form copy on screens fitted with audience recognition technology, the words and letters becoming jumbled and harder to read the longer people stop and look at it. The aim is to help non-sufferers understand what it's like to be dyslexic, to drive donations to the charity and raise awareness of Dyslexia Awareness Week.
Second prize
Art Fund – Art for Everyone
Agency: MullenLowe London
To mark Museum Week 2018, people are invited to stand in front of a screen and have their pictures taken. Facial and body recognition technology will analyse their expressions and body positions to sort through an Art Fund database to find the work of art that best resembles them. The aim is to make art more accessible and encourage more people to invest in a National Art Pass.
Third prize
NSPCC – Disappearing Children
Agency: mcgarrybowen
This thought-provoking campaign for the NSPCC uses Ocean's Westfield London screen to demonstrate the uncomfortable fact that more than 1,200 children went missing in the UK last year and are believed to have been trafficked. The campaign simply broadcasts a live stream of people walking within the vicinity of the screen, but with all the children literally "disappearing" from the image altogether. A powerful and impactful metaphor to illustrate the prevalence of sexual exploitation and modern slavery.
International Prize
Dulux – Let's Colour the World
Agency: MullenLoweLondon
This bright and happy Dulux campaign uses Ocean's international alliance network to invite people to colour the world. In a special live stream linking selected participating cities, people can connect to their local screen live via their phone and literally colour the streets of the international destination it is linked to in real time.
The winners were announced on October 5 before an audience of 500 guests at London's IMAX. They share a GBP 650,000 prize pot to fund their campaigns on Ocean's screens in the UK and internationally over the next 12 months.
To see all of the 2017 winning campaigns click here.