Adrian J Cotterill, Editor-in-Chief
Elonex has further expanded its portfolio of digital signage at major UK retail destinations, with the addition of a stand-out network of advertising screens at the Bullring Birmingham.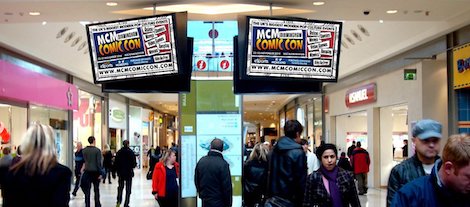 The network consists of 27 digital Walkway and Iconic screens positioned at high footfall and key dwell areas inside Bullring Birmingham.
Elonex will be responsible for all media sales relating to the screens, and also for the day to day technical management and scheduling of the network.
Bullring is one of the UK's most successful retail destinations and the prime shopping location in Birmingham, whilst its unique architecture creates an iconic city centre landmark.
Attracting an average weekly footfall of 750,000, Bullring Birmingham is home to an impressive mix of high profile retailers and leisure outlets and provides a real focal point at the heart of the second city.
The digital screens Elonex will be operating are located across all levels of the Bullring, and must be seen by consumers while shopping and making their way to other major city centre destinations, such as Grand Central and New Street Station.
Unmissable to visitors, the screens deliver real time advertising opportunities for brands and retailers looking to target mass audiences in a thriving retail and lifestyle environment.
Nick Smith, CEO at Elonex, told us "The screens at Bullring Birmingham really strengthen the Elonex shopping mall portfolio, and add yet another flagship destination to our inventory. Bullring Birmingham is a world class venue and one that's renowned for its leading retail and leisure offering. The Elonex screens fit well with the big audiences attracted to the Bullring, and are certain to enhance the consumer experience and provide advertisers with the most effective targeting opportunities."
Bullring Birmingham further adds to the number of destinations already in the Elonex retail portfolio, with the LED manufacturers and Digital Out of Home media owners marketing Iconic, Walkway and Digital 6 Sheet screens at over 80 shopping centres across the UK.