Adrian J Cotterill, Editor-in-Chief
Guinness has this week launched a highly targeted, out-of-home campaign for its iconic draught stout that uses data to reach Guinness fans based on their location, behaviour and affinity to the brand.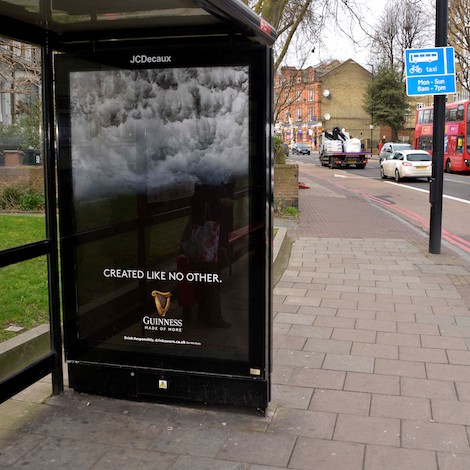 Alexandra Porritt, Senior Client Strategy Manager at Posterscope told us "This campaign marks the next phase in Posterscope's location analytics for Guinness, evolving from research previously done in collaboration with Data2Decisons which identified the important role of Roadside 6 Sheets to maximise ROI for Guinness. The addition of driving "pint appeal" in the virtual proximity allows us to prime consumers in not only drinking locations but also in locations with a high affinity to the Guinness brand."
The campaign draws mobile data from apps, Instagram and Twitter to identify a bespoke audience demonstrating a passion for sports and pubs, combined with self-confessed Guinness drinkers, and pinpoint locations with a high concentration of these individuals. In a media first, Instagram data has been included in the OOH planning to help locate the Guinness audience based on the photos they are posting.
Guinness messaging will appear on roadside digital six-sheets skewed towards these Guinness "behavioural hotspots" and be supported with a wider out-of-home campaign running on Adshel Live, LDN and Tesco SmartScreen networks and other retail POS sites in close proximity to on and off-trade stockists to stimulate consideration and purchase.
Alexa Wolff, Guinness Senior Brand Manager, said: "Guinness has always invested in out-of-home because of the rich creative canvas and brand building opportunities it offers, but the innovation we are seeing in the medium means it can offer even more. Now we can use multiple data sources to optimise our campaigns and reach audiences with a genuine interest in our brand, close to our stockists, increasing effectiveness".
Planned by Carat and Posterscope, in partnership with Locomizer, the campaign is a continuation of the 'always on' strategy that Guinness deploy in OOH, ensuring a presence throughout the year and during key cultural moments. Creative is by AMV.