Adrian J Cotterill, Editor-in-Chief
Clear Channel International has announced a new partnership with Amscreen that will include the provision of digital outdoor displays for a European-wide deployment.
This new deal will see further expansion across 16 new country markets. This follows three years of digital out of home deployments in the UK market where the total DOOH revenue now represents 50% of all OOH revenues.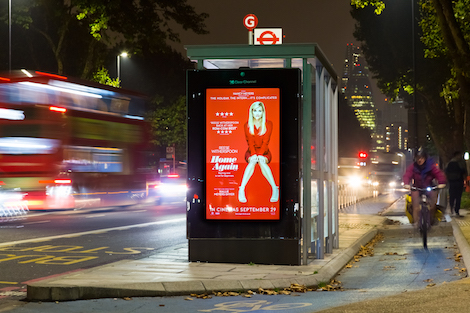 The deal reflects Clear Channel's move towards greater digitisation of their international network while standardising the technology across countries to deliver more operational efficiencies.
The global outdoor advertising business's European territories include Belgium, Denmark, Estonia, Finland, France, Ireland, Italy, Latvia, Lithuania, Spain, Sweden, Netherlands, Norway, Poland, Switzerland and the UK.
William Eccleshare, Clear Channel International CEO told us "We have been working with Simon and the Amscreen team for several years now. This deal has come about, not simply due to the speed of deployment and quality of display, but thanks to Amscreen's full-service solution and their constructive approach to this partnership, which has made this work so well. In the UK, more than 50% of our revenues are now derived from our digital estate thanks to the creativity, flexibility and contextual relevance it offers brands. We are looking to replicate these capabilities with greater operational efficiency and offer these stunning displays to our advertisers across Europe."
The soon to launch, standardised double sided 75" screen product will offer Clear Channel International's business units more efficient deployments across roadside, bus-shelter and outdoor retail environments. The displays have been developed to create base-product standardisation while also providing the opportunity for exterior customisations for the local market's specific needs. This new product will benefit from a range of new innovations and investments that are all aligned to ensure shorter lead times and reliability on the street.
These include:
UK / European assembly and engineering base driving shorter lead times
Simple, bespoke rapid installation jigs for minimum on-street disruption
Modular design to speed repair, replacement and customisation
Heat, air-flow and moisture management innovations as part of the Smart Suite® of solutions including Smart Maintenance®, Smart Exchange® and Smart Environmentals®
RDM®, a patented remote device management software system for automated optimisation and real-time review and maintenance
Simon Sugar, CEO Amscreen said "Since 2014 we've been working as one with the Clear Channel UK team, where every element has been built to provide a simple, rapid and reliable deployment and operations. We have also managed to smash the standard industry lead times down to just 6 weeks. This of course brings with it a solid competitive advantage for new tenders for where local municipalities are looking to work with a fast, proven no-fuss solution. We are incredibly proud to have achieved this with Clear Channel UK and now looking forward to seeing these units across mainland Europe."
Amscreen are specialists in delivering connected advertising displays across Europe. With a network of 15,000 screens and more than 20 years' experience in providing full end to end suite screen solutions, Amscreen are Europe's No.1 digital solutions provider and innovator. The current partner portfolio includes blue chip retail businesses such as BP, Shell, Tesco and Costa Coffee as well as Clear Channel International. A deal in 2016 saw Amscreen provide Clear Channel UK with their award-winning phone kiosks – a reimagination of the iconic British red phone box. Amscreen has also supplied and shipped more than 2,000 freestanding and bus shelter units to further bolster Clear Channel's national digital Adshel estate. Recent investment includes a 20,000 sq. ft. European based manufacturing facility (see video) as well as a real-time remote device monitoring platform RDM® for remote management and maintenance of a screen network.