Russ Curry, Ministry of New Media
New York Digital Signage Week takes place Monday October 29 to Friday November 2, 2018 and just as with the previous six years, there will be something for everyone, with the usual heady mix of free and paid-for events.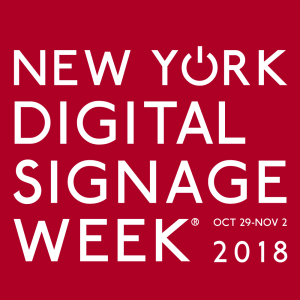 The week kicks off as normal in Manhattan but then, thanks to the SEGD and for the first time ever, visits and ends up in Brooklyn – not content with just one event in that fine borough, SEGD President Bryan Meszaros has also organised a new type of industry social in Brooklyn on All Hallows' Eve, Ed.
The week starts with a 'Lunch with Samsung' at their 837 Innovation Centre in the Meatpacking district and then proceeds to see three big conferences (the DPAA's Video Everywhere Summit, The DailyDOOH Investor Conference and SEGD's XLAB), an innovation showcase (BARCO), a roadshow (LG TECHTOUR), various cocktail events (Brightsign are using the Press Lounge again, this swanky bar is on the roof of the Ink48 Hotel and features 360-degree city and Hudson River views and was incredibly popular last year), a half day 'Evolution of Display Technology for Retail and Public Spaces' Seminar (BARCO), an open house (SNA Displays), two breakfast events (Digital Signage Federation and the DPAA International Breakfast), lots of private and public tours (ANC, MTA, Unibail-Rodamco-Westfield Group and others), a 50th Anniversary Celebration (Daktronics), live podcasts and more!
We'd like to thank all those who have put on or sponsored an event and especially thank the week's official sponsors; BARCO, Brightsign, Captivate, Digital Signage Expo, Digital Signage Federation, Peerless AV, Trueform and the Metropolitan Transit Authority.
The week is supported by all of the major industry associations and we would like to thank the AVIXA Women's Council NYC Group, the Digital Signage Federation (DSF), the DPAA (Digital Place Based Advertising Association), the Outdoor Advertising Association of America (OAAA) and the Society for Experiential Graphics Design (SEGD) as well as many of the big screen and LED manufacturers; BARCO, Daktronics, Leyard Group, Samsung, SNA Displays and Unilumin.
Last year 34 individual events took place during the week and it looks as though there will be a few more than that, this time around. It's not too late to put on your own event and we've created 'Your Guide To Creating a Pop-Up Event During New York Digital Signage Week', email Russcurry@gmail.com if you want a copy, which explains how easy and beneficial doing something during the week can be.
The official hotel for New York Digital Signage Week is New York's iconic Roosevelt Hotel, known as the 'Grande Dame of Madison Avenue'. A limited number of sleeping rooms have been reserved at a preferred rate (US$299) for delegates attending any event during New York Digital Signage Week.
The suggested hashtag for the week is #NYDSW.
Information about last year's New York Digital Signage Week, which also took place the last week of October can be found here.