Russ Curry, Ministry of New Media
The DPAA are once again holding an additional event for international folks during New York Digital Signage Week. Last year's International Forum has this year become, an International Breakfast that takes place on Thursday, November 1 from 8:30-10:30am. It's an invitation-only affair and aimed mainly at non-U.S. registered attendees of the #VideoEverywhereSummit (being held Tuesday, October 30 at the iconic Roosevelt Hotel).
As is typical with DPAA events (their summits, tours and quarterly meetings), this breakfast will be a great opportunity to discuss global challenges and opportunities, facing the global DOOH industry. It will feature a guest speaker and ample networking opportunities. It takes place at the Groundtruth offices in the One World Trade Center.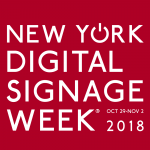 Thanks to the DPAA, the official hotel for New York Digital Signage Week is New York's iconic Roosevelt Hotel, known as the 'Grande Dame of Madison Avenue'. A limited number of sleeping rooms have been reserved at a preferred rate for delegates attending any event during New York Digital Signage Week.
The Video Everywhere Summit is globally, the largest one-day event dedicated to multi-screen engagement, mobile/location data and the role of DOOH advertising in today's fast evolving media ecosystem.