Gail Chiasson, North American Editor
The Retail Council of Canada recently partnered with ONESTOP Media
Group and Fourth Wall to raise awareness, educate and increase adoption of Digital and Interactive Display Networks among retail executives at its STORE 2009 conference in Toronto.
"In light of the economic and environmental challenges facing today's retailers, it is important to share new innovations through alternative means of in-store communication that can decrease waste and increase operational and marketing efficiencies," says Andrew Siegwart, vice-president of membership services at Retail Council of Canada.
By integrating the STORE 2009 Digital and Interactive Network into the conference experience, delegates were able to translate it easily into their own in-store applications. The Digital and Interactive Network at STORE was reminiscent of OMG's national mall and local in-store networks for clients such as Ivanhoe Cambridge and Sporting Life.
Ultimately, the network was able to decrease STORE's costs related to print production, demonstrate the effectiveness of real time messaging capabilities and reinforce the importance and power of consumer data gathering.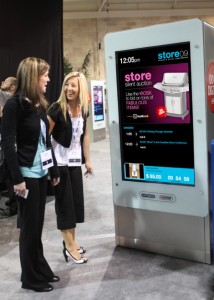 The STORE 2009 Digital and Interactive Network featured large format digital displays communicating real time conference information and entertainment such as: time, session schedule, sponsor recognition, upcoming RCC events, and more. The network also featured a touch screen silent auction centre instead of the traditional paper and pen method used in the past.
"The Digital and Interactive Silent Auction was a clear demonstration of the power of the medium itself driving traffic from one area to another and keeping delegates informed by real-time RSS updates and mobile alerts on digital technology," says Michael Girgis, president of ONESTOP Media Group. "Truly, it was a demonstration of the digital promise, the right message at the right time, to the right target."
The Digital and Interactive Silent Auction was accessible via onsite touch screen kiosks, Web and mobile devices. More than 500 delegates attended the conference; and over 20% of them participated in the auction. The kiosk alone received over 10,500 page views over the course of two days; while the Web received over 2,500. The auction raised over $8,000 for the Canadian Retail Institute's Retail as a Career
Scholarship Program and proved to be a memorable demonstration of the power of an in-store digital and interactive communication network.
The Retail Council of Canada is a not-for-profit, industry-funded association representing more than 40,000 store fronts of all retail formats across Canada, including department, specialty, discount, and independent stores, and online merchants.
ONESTOP Media Group is an internationally recognized, award-winning, digital media company, and Fourth Wall is a digital and interactive agency specializing in online, out-of-home digital, and kiosk creative production services.