Adrian J Cotterill, Editor-in-Chief
UK bus and tram advertising business Adverta Transport Advertising has agreed a sponsorship deal with bus operator Transdev which will see it promote local attractions and prestigious local businesses across its fleet of more than 500 buses in Yorkshire and Lancashire.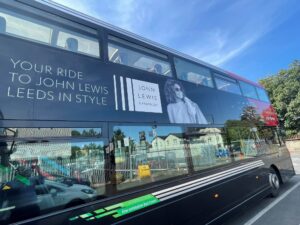 Mike Brennan, CEO of CP Media and Adverta, told us "CP Media is one of largest outdoor sponsorship companies in the UK working with more than 40 local authorities to maximise their sponsorship revenues. When we acquired Adverta it made total sense to extend its model into optimising sponsorship revenues as well. Transdev is one of the most prestigious and respected transport companies in the country and we are thrilled to be working with them."
Transdev has 10 depots in Yorkshire and Lancashire and operates buses across the region under brands including The Harrogate Bus Company, The Keighley Bus Company, The Burnley Bus Company, The Blackburn Bus Company, Flyer, Coastliner, Team Pennine, York & Country and Rosso.
Matt Burley, the commercial manager of Transdev, said: "It is really important for us to promote the destinations we serve along our routes to our customers and to form great relationships with these attractions. Working with Adverta will enable us to access CP Media's vast contact book to allow us to start these relationships, which is why we've chosen to work with them. Our ground-breaking sponsorship programme will allow us to encourage new customers onto buses, support our local economies and ensure that customers know they can get to the many great attractions and retail outlets across the North easily, sustainably and cost effectively. It also means that the businesses who choose to sponsor our buses are doing their bit for the environment by encouraging customers to travel green."
Adverta is one of the UK's largest bus and tram advertising specialists representing 30 bus companies and was acquired by Yorkshire based outdoor advertising company CP Media in 2022. Previously specialising in bus advertising, under its new owners Adverta is now broadening its offering to include bus sponsorship.