Adrian J Cotterill, Editor-in-Chief
A little surprised when we played with .advancedMethod's unmanned booth at InfoComm…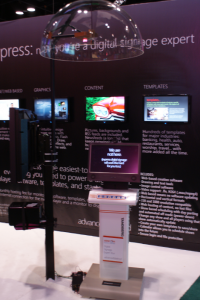 We stood under a clear plastic directional sound umbrella 'thingy', faced the camera and pressed the button to talk to 'LIVE PR' – lovely lady answered, her first words to us were a question "which button did you press?", we reply "you should know which button we pressed, you tell us!" and being obstreperous that dialog went on for the next few minutes!!
This 'instant expert' product goes on sale after the show but it may need a bit more thought / bugs ironed out of it if this is the sort of response one is going to get when it goes into other real world locations!
Still, the booth was quite clever and certainly a good PR story for many – mind you we twittered yesterday a conversation we overheard in the press lounge, one journalist said to another "Did you see that unmanned booth, a little creepy heh?"
Despite the initial reservations at the start of the interaction we liked this though.