Gail Chiasson, North American Editor
That interactive kiosk/video conference experience being used at InfoComm, mentioned in our June 5 article about Seattle-based .advancedMethod's 'booth redefined', was first seen at Infocomm 2006 as a concept, but has since undergone many improvements and is now ready for market.
It's made possible by a partnership with Tandberg and its world class video conferencing system, specifically its1700 MP. Customers can buy the product from .advancedMethod after InfoComm on a limited basis.
Initially Instant Expert/Translation Station will be a custom solution, but plans are underway to develop it into an off-the-shelf solution.
At InfoComm, digital signage company .advancedMethod, in cooperation with Tandberg, plans to demonstrate the interactive kiosk/video conference experience that allows instant video contact with a subject expert or an interpreter at the touch of a button.
The system offers a retailer, mass transit hub, or any other customer-facing facility the ability to have an 'instant expert' on hand at any time. It can be used anywhere a retailer or organization needs more of a presence without hiring additional employees.
"Now, more than ever, the brick and mortar retailer needs a way to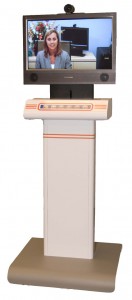 bring people into the store," says Robert Grawet, general manager .advancedMethod. "Instant Expert gives every retailer the opportunity to have an 'expert' – be it a traditional expert on a product, or a translator to help explain something. Instant Expert makes that feasible for the very first time, with an elegantly designed, easy to use and inexpensive solution.
" I have worked with Tandberg for more than three years on this concept. We built this with Tandberg because it is the world's leading videoconference supplier. Its high quality HD experience allows Instant Expert the ability to give each user the feeling of face to face discussions with the expert."

With Expert/Translation Station, a user can instantly be connected to a pre-determined expert at any location in the world. Buttons can be customized to fit a company or organization's specific needs. For example, one can have an instant translation into a foreign language in order to provide a lost traveler with the ability to communicate in his/her native language.
When it is not in use the Instant Expert is automatically turned into digital signage using .advancedMethod's express system.
Instant Expert can also provide businesses running with fewer personnel due to the current economic situation the capability of having one employee in a central location become the go-to expert for many sites, reducing local staffing costs.