Adrian J Cotterill, Editor-in-Chief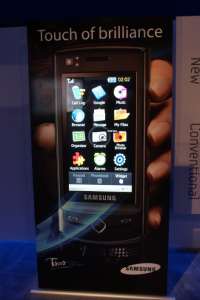 We visited the Samsung stand every day whilst we were at InfoComm – so much was there to see and we were keen to look at a number of the exhibits in a bit more detail (the bus shelter for example and the giant video wall).
This Samsung mobile phone retail fixture was tucked away in a corner but really caught our eye (in case you can't get the scale from the photo it's about human height).
Made up of course from a Samsung LCD, it was touch screen and attempted to re-create the user interface of one of their mobile phones.
It had a big footprint (it was in a big wooden box) and the outsides of the fixture could have been a bit prettier perhaps but it does show just how creative you can be with an LCD and some touchscreen technology.