Adrian J Cotterill, Editor-in-Chief
The Mayor of London, Sadiq Khan, has launched an advertising campaign to raise awareness about the impact that adverse weather conditions can have on homeless people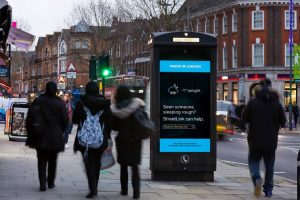 Digital advertising screens in more than 130 locations across London will use weather data from the Met Office to update dynamic elements depending on temperature, as part of the Mayor of London's rough sleeping campaign.
Using the tagline, 'Whatever the weather, homeless people deserve better', the adverts will be triggered by weather data from the Met Office, providing up to date weather information for that evening when the temperature drops to zero or below – reminding the public of the conditions homeless people have to endure and encouraging them to refer rough sleepers to support services.
As low temperatures continue, the campaign hopes to raise awareness about the impact freezing weather can have on the thousands of people sleeping rough in London and how Londoners can help. Select sites will also provide instant access to StreetLink – a website, app and telephone service through which members of the public can send an alert that connects a person sleeping rough to local services for support.
The campaign was developed with pro-bono support from Weber Shandwick London, production house Voodooh, and uses advertising space donated by out of home media owner Clear Channel.