Adrian J Cotterill, Editor-in-Chief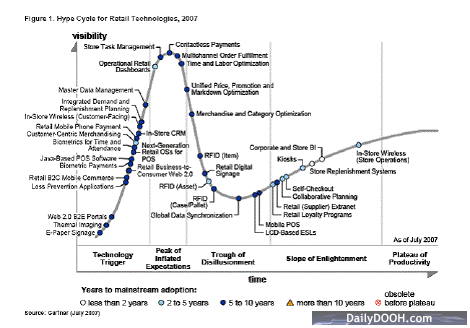 Only last July Gartner Group predicted that Retail Digital Signage had 5 to 10 years to go UNTIL, what they call, mainstream adoption. My how they have got it wrong!!!
A Hype Cycle, in Gartner terms, is a graphic representation of the maturity, adoption and business application of specific technologies.
Since 1995, Gartner has used Hype Cycles to characterize the over-enthusiasm or "hype" and subsequent disappointment that typically happens with the introduction of new technologies.
Hype Cycles also show how and when technologies move beyond the hype, offer practical benefits and become widely accepted !!!