Adrian J Cotterill, Editor-in-Chief
Despite the rumours, claim and counter claim, it would finally appear that Marco Bruines has actually joined SHENZHEN INFiLED ELECTRONICS CO.,LTD in some capacity.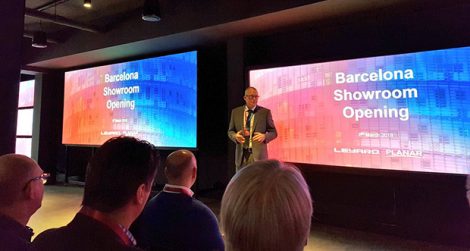 His first brush with the Chinese we believe, was as President BarcoLeyard based in Beijing, China from 2003 – 2006. In 2007 his last gig at Barco was a 10 month stint as Vice President for Sports & Digital Out-of-Home Media. For the next six years he was GM at Inter Visual Systems based in The Netherlands, a highly thought-of System Integrator for High-End visualisation systems.
It was then a number of jobs that didn't ever last very long before he really landed on his feet and was appointed, somewhat out of the blue, as CEO Leyard EMEA in December 2016. His claim to fame here, was a new Leyard and Planar showroom in Barcelona, Spain (more on that later). He left Leyard in November 2018.
To confirm this appointment which has been rumoured all week, we reached out to SHENZHEN INFiLED ELECTRONICS CO.,LTD for comment but due to Chinese holidays they were unable to do so in time for this story. A spokesman for UK based infiLED® EM however did give us a quote, telling us "Infiled is delighted to confirm that it has recruited the great expertise, knowledge and experience of Marco Bruines, in the capacity of Business Development Manager, for developing and expanding the key targeted verticals of Control and Command and Broadcasting. Marco Bruines will be based out of Barcelona, where he currently resides and will be reporting to David Wei, the Global Sales Director, for Shenzhen Infiled".
Based on comments overheard at #ISE2019 we're not sure Marco ever enjoyed working for a Chinese owned business. Business Development Manager is a big step down from his previous role as CEO and he will have to sell so we are not expecting this appointment to last too long.