Gail Chiasson, North American Editor
We introduce the third in our monthly Will Work for Love features about what it's like to work at a company involved in the DOOH field from an employee's point of view.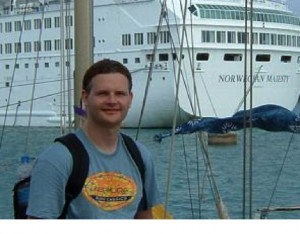 Jan-Ivar Bruarøy is director of research & development at Scala Inc.. This Norwegian expatriate has had a hand in the development of the company's products since 1991, and now heads up development of the Scala Content Manager product. This involves keeping the current product in shape as well as researching for the future.
Describe your personal work space.

Because of my long commute, I telecommute two days a week out of my home office on the third floor of our West Philadelphia Victorian row house, looking out on a tree-lined street. The other days I work in the main development office in the suburbs. Scala is generous with personal offices, but we are growing out of our current building, and because of that, I'm now sharing my office with one other person. This has brought plants to the window sills, which is great! My desk is the one with the vertical Samsung SyncMaster, a personal weakness I'm trying to shake as it can affect user interface design decisions.

How do you get to work?

I used to drive, but it drove me insane. I used to come home tired and irritated. Now I take the train from the city out to the suburbs, where a car is waiting for me at the station that takes me the last leg to the office. How? There's no direct bus, so I made an arrangement with a friend of mine who lives there but works downtown at Comcast: I borrow his car while he takes the train in the opposite direction, and I return it at the end of the day before he gets back. I pay for his gas and we are both happy. Because I laptop on the train, it works out time-wise. I arrive rested and ahead on work.

What is an average day like?

Mornings are the busiest because I have developers in three time zones: Exton, Oslo and Bangalore, so anything not done then has a 24-hour turnaround. I plan my commute around our daily standup meeting at 9:30 a.m., either leaving very early to be in Exton for the videophone, or joining from home or even from the train. I usually skip breakfast and have lunch at the grocery store next door to the office with coworkers. Sometimes I pass by Starbucks and, even though I don't drink coffee, I much enjoy their $4 milkshakes.

What is essential for you being able to work happily?

My Wireless 3G USB modem! Seriously, I like a creative environment that is flat enough that it allows for open discussion of everyone's ideas, so that the best ideas bubble to the top. I like it when everyone feels that their input matters and that they've been heard, but at the same time it's a meritocracy, not a democracy.

How flexible are your working conditions?

Pretty flexible.

What do you think your employer looks for in its staff?

I think they look for talented people who are passionate about what they do; critical thinkers that are emotional about their investment in the company.

What suggestions do you have for your company?

I would like to suggest us having a downtown office (I am in no way biased on this). Perhaps there is some room opening up in One Liberty Place next to AIG?

Do you have any frustrations you would like to share with us?

Looking back on how early technology was available for what we are doing, it is perhaps a little surprising how long it has taken for digital signage to garner mainstream attention. But that just adds to the excitement about what is going on right now, and I'm very happy to be here at this moment.

What do you like best about your job?

I like my ability to contribute to the design of our software, and to see it come to fruition, solving real people's needs. Software is business, but there is always that human connection when people interact with what you've made and they, hopefully, have a great experience. And when they don't, I enjoy that feedback, too. I like exploring the computer-human interaction. I also like that I get the opportunity to travel.

How open is your company to new ideas and suggestions?

We have a pretty flat hierarchy in R&D here at Scala, which is great for brainstorming new ideas. Every new idea is an opportunity right now. Some day this market will mature and things will perhaps inevitably get more boring, but right now it isn't.

How much responsibility have you been given?

I oversee the Content Manager team, its current and future projects. I also contribute to general product design.

How green are you and your company?

At work we barely use any paper. Everything is online.

The greater Philadelphia area is surrounded by farms so I like to buy at local farmers' markets and 'mom and pop' stores, because this keeps the money in the region, uses less energy and pollutes less as the food doesn't have to travel as far – and most importantly to me, the food is fresher and the people are nicer and more knowledgeable. Did I mention I take the train and telecommute? I used to scuba dive and fly Cessnas as hobbies, but now I'm enjoying the home-life with my wife and son and am looking forward to getting my son on inline skates.