Adrian J Cotterill, Editor-in-Chief
It is with great sadness that we write about the passing of Paula Oliver, Managing Director of Wildstone Consulting who left us on December 21, 2019 after a short illness.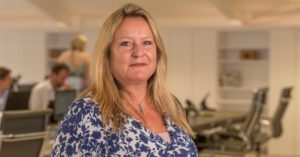 Paula was a true DOOH pioneer, blazing the trail for airport screen advertising networks from the early 2000s onwards. Our industry really has lost one of its early founders.
Prior to joining Wildstone in 2014, she was for many years a JCDecaux Airport Board Director, defining and developing the UK airport advertising product across Heathrow and many other airports in the UK and Worldwide. After three years as Managing Director for Airport Partners, Paula formed her own very successful advertising consultancy Skybrands, which was subsequently acquired by Wildstone.
Paula was highly regarded by everyone she worked with. My personal memory was what fun she was to be around, she was kind, thoughtful, creative and energetic. She will be greatly missed by her clients, work colleagues and all who knew her. Our thoughts are with her family.
The funeral will be held on January 22, 2020. The family has asked that instead of flowers, donations can be made here.