Adrian J Cotterill, Editor-in-Chief
Swiftmile, developers of light electric vehicle (LEV) charging systems have designed a new sanitiser wipe dispenser system for its in-field Micromobility charging stations.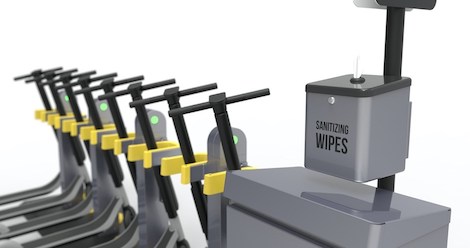 Chief Executive Officer, Colin Roche told us "During this shutdown most communities are at a standstill as we all know. But when things open back up, and they will, there is going to be an unprecedented surge in usage for shared e-scooters and e-bikes given that people will be less inclined to want to get into a confined space like a subway, rideshare car or crowded train to get around. By adding these sanitizer wipe dispensers to our stations we are giving riders an extra comfort level of safety to help combat the spread of COVID-19".
Swiftmile's goal is to provide an easy-to-setup solution for disinfecting e-bike, e-scooter, and e-moped fleets.
Leo Vera, Swiftmile's Chief Business Officer said "Given the severity of the situation, our plan is to quickly roll these out to our installed base of charging hubs and make them available to the riders. We also encourage other bikers and pedestrians to use them as needed to stay safe. The well-being of our communities, scooter operators, and riders is our top priority and we hope this new sanitiser addition will help to contribute to the overall success of this new chapter for Micromobility".
Swiftmile provides valuable infrastructure for alternative transportation solutions for short city distances, reducing harmful carbon emissions. The company helps to solve the pollution pain point caused by single-rider commuter vehicles through its proprietary platform in major markets around the world. The Swiftmile stations can serve both programmatic Digital Out-Of-Home and static advertising allowing local governments to remind the public how to stay safe during the COVID-19 outbreak.