Adrian J Cotterill, Editor-in-Chief
Samsung Display, a unit of South Korean tech giant Samsung Electronics Co Ltd, said back in October, 2019 that it had suspended one of its two LCD production lines at home amid falling demand for LCD panels and a supply glut but yesterday a spokeswoman said that they "had decided to end all of its production of liquid crystal display (LCD) panels in South Korea and China by the end of this year".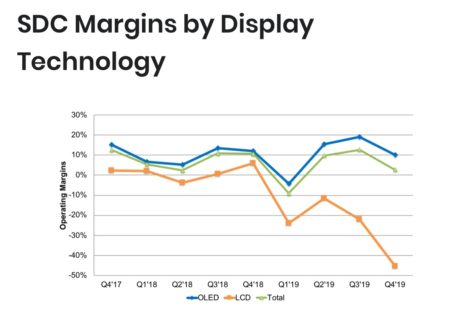 The company said in a statement "We will supply ordered LCDs to our customers by the end of this year without any issues".
Currently, there are two production lines at its South Korea campus, and two LCD-only factories in China. One of the former will be upgraded and converted into a facility that can produce superior 'Quantum dot' displays, while the fate of the latter is yet to be finalised.
Samsung Display's cross-town rival LG made a similar announcement earlier this year that LG Display Co will halt LCD production for TVs later this year.
Whilst analysts agree that one of the key reasons for this move is to curb the oversupply of LCDs and that there is a global slowdown for smartphones and TVs, you only have to look at the SDC margins by display technology (see graph above) to know that LCD in South Korea has had its day.
In February Samsung Electronics revealed that its revenues fell 2% Q/Q and 3% Y/Y in USD to USD 50.9B. It was the fifth straight quarter with revenues down Y/Y but even worse Samsung's Display Division was down double-digits Y/Y. Operating margins improved in every segment for Samsung except for Displays which dropped significantly from 12.6% to 2.7%.
With regard 'Large display' Samsung's earnings have remained weak for a while due to oversupply and, expert analysts say, from added costs for reorganising their business structure and production around QD-OLEDs. It's clear that Samsung Displays focus going forward will be on ultra-large and 8K TVs and curved and gaming monitors.