NEC Corporation (NEC; TSE: 6701), NEC Corporation of America and its partner company, Infrared Cameras Inc. are supplying Hawaii's Department of Transportation (HDOT) the solution needed for implementing facial recognition and temperature screening at its publicly owned airports.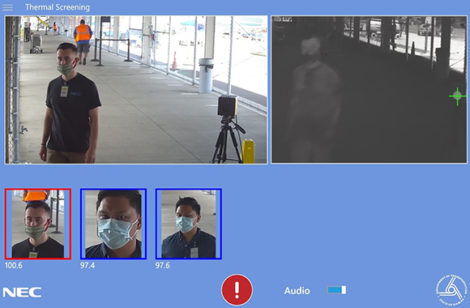 Raffie Beroukhim, chief experience officer for NEC Corporation of America told us "Team NEC's approach is predicated on enhancing existing processes and services rather than introducing a bottleneck or negative impact to processing speed."
The thermal temperature screening equipment is currently being installed at Daniel K. Inouye International Airport (HNL), Kahului Airport (OGG), Lihue Airport (LIH), Ellison Onizuka Kona International Airport at Keahole (KOA) and Hilo International Airport (ITO).
Hawaii's Governor David Ige said "Taking these steps to implement the technology at our airports shows our commitment to providing preventative measures against Covid-19 for the community. We recognize that temperature screening won't catch every infected passenger, but it is an available tool that can be implemented and combined with the additional measures the state is providing to help prevent the spread of this virus, while helping rebuild the economy."
Phase 1 will see temperature scanners installed at the gates currently being used for arriving transpacific flights. This will be followed by Phase 2 which will have the temperature scanners installed at the remaining gates. HDOT expects to have Phase 3, the installation of facial recognition equipment, completed by December 31, 2020.
NEC and Infrared Cameras were selected with a proposal of USD 23.3 million for equipment and installation and a 10-year maintenance plan of USD 1.42 million annually for a total contract amount of USD 37.5 million. The companies were selected in part because of their innovative concept and functionality to deliver accurate and efficient thermal temperature screening for people traveling to Hawaii. The selection committee evaluated various systems and technologies and NEC and Infrared Cameras were determined to be the best fit for Hawaii's needs.