This afternoon (for those of you in Europe), ISE kicks off 2021 with its third RISE Spotlight online event, featuring industry experts from Netflix and Microsoft Education. The virtual event, in partnership with The Next Web, is entitled 'Harness the Power of Digital Learning'.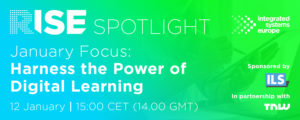 Top of the agenda is the Reporter Roundtable session, where a curated international panel of experts will discuss the burning issues surrounding digital learning. Was last year's rapid roll-out of digital learning technology more problematic than anticipated? What are the barriers to implementing digital learning across an organisation? Which technologies will create the biggest impact in 2021?
On the panel will be:
Varun Sawhney, Director Global Learning and Development at Netflix – The Netherlands
Elizabeth Lembke, Chief Talent Navigator at Transforming Talent – Germany
Diana Laurillard, Professor of Learning with Digital Technology at UCL Knowledge Lab – UK
Robin Støckert, Assistant Professor, Department of Mathematical Sciences, NTNU – Norway
After the there will be a live one-to-one 'On the Sofa' interview with Mike Tholfsen, Principal Group Product Manager at Microsoft Education. The interview will be focused on the evolution of education technology and the future of digital learning. Audience members are encouraged to submit questions via the live chat.
This will be followed by 'AVIXA Insights', where Sean Wargo, Senior Director of Market Intelligence at AVIXA, will give 'The Higher Ed Outlook', presenting data from the association's IOTA research about AV revenues in the education sector.
'Start-up Nation' has become a popular feature within the RISE Spotlight schedule. Discover the next big thing as Mercedes Bent, Partner at Lightspeed Venture Partners, talks about some of the exciting start-ups in the digital learning space that her company has invested in. Mercedes will also introduce elevator pitches from Tom Brunskill, co-founder and CEO of Forage, and Deborah Burton, CEO at Instruqt, who will pitch their wares in a bid to impress the live audience.
The RISE digital programme offers a monthly dose of ISE, with RISE Spotlight virtual events plus online editorial content live and featured within the RISE Connect newsletter. Produced in partnership with TNW and supported by ISE co-owners AVIXA and CEDIA, virtual events are hosted on Hopin and have been designed to encourage industry engagement through compelling speaker sessions, a live audience Q&A chat function and networking opportunities.
You can tune in live Tuesday January 12, 2021 at 15:00 CET / 14:00 GMT.