Russ Curry, Ministry of New Media
The OAAA and Geopath who take turns each year to organise and lead their annual conference had to go virtual last year (the 2020 Geopath/OAAA Convention and Expo which was due to take place April 27-29, 2020 at the JW Marriott Phoenix Desert Ridge in Phoenix, Arizona was unfortunately cancelled) and this May, it's the turn of the OAAA to hold a virtual event.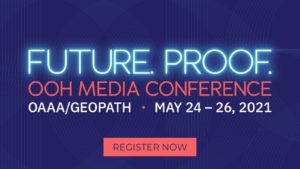 The OAAA / Geopath Out of Home Media Conference will be held online May 24-26, 2021 and will kick off with the 79th annual OBIE Awards ceremony, followed by two days of thought-provoking and critical content centered around innovation and creativity to advance the channel, today and tomorrow.
We are told that the stage will bring together a stellar line-up of brand and agency executives as well as industry thought leaders for lively discussions and important debates, all designed to 'Future Proof' the OOH industry.
Registration is available here.
In 2022 we can look forward to an in-person Geopath / OAAA event which will take place on Marco Island, Florida.