Adrian J Cotterill, Editor-in-Chief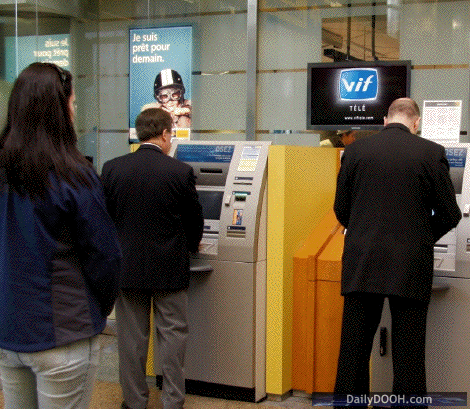 The great thing about traveling is seeing different / slightly different and subtle new ways of doing things.
We noticed this interesting ATM screen implementation in Montreal and then (accidentally) bumped into the owner of the business at a jadn.tv cocktail event the next day!
At some ATMs in Canada, VIF Tele presents a program a little less than 3 minutes long (including advertisements) for people waiting to use the ATMs or circulating in the environment.
Unlike UK based i-design's ATM:Ad they do not use the ATM and ATM software itself instead relying on an external screen.
We understand that this is the first time in Canada that retail banks have allowed external advertisements into their branch environments (we have lost count of how many times we have presented in front of VP's Marketing of European retail banks and asked for / suggested the same thing so that initiative that they have started should not be underestimated).
We think that folks like VIF Tele should be speaking to a number of French network owners and French suppliers about this as well as perhaps talking to John Ryan.
AND before some of you email in to say; yes, we agree it does look like the guy on the right in the picture has had a few too many pints after a day in the City (I can imagine him swerving side to side, Ed)