ZetaDisplay has entered into a partnership agreement with KFC Netherlands and Belgium and omnichannel CRM and order management platform BOOSTR Agency to provide digital signage solutions at more than 100 KFC restaurants during the next 12 months.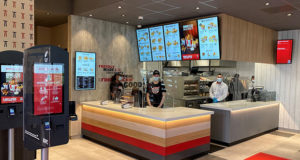 This partnership will see KFC's digital signage estate expanding to include new and remodelled restaurants across the Netherlands and Belgium. Each restaurant will feature six screens as digital menu boards and tests are underway at several restaurants with external-facing window digital screens aimed at passers-by. Each restaurant will feature six screens as digital menu boards, with most restaurants also hosting screens for KFC's CrewTV, in a roll-out in the Netherlands and Belgium
Richard van Beeren, senior digital technology manager at KFC Northern Europe, said "The digital technology team at KFC Northern Europe has ambitious goals around the guest experience in and around KFC's restaurants. BOOSTR Agency is a strategic partner in this regard, integrating the various objectives, techniques and sub-contractors, including ZetaDisplay's digital signage solutions. In partnership with BOOSTR Agency, we have laid out a challenging roadmap to bring the digital transformation and integration at KFC in a big way."
BOOSTR Agency has been working with KFC since 2020 and with offices in Amsterdam and Zwolle, delivers the execution of the marketing communication in and around all restaurants in Netherlands and Belgium, for both the head office and the individual franchise partners.
ZetaDisplay has some history with KFC with its webOS solution supporting the delivery of digital communications and campaigns in its restaurants in Nijmegen, Arnhem and Almere since 2015.