Adrian J Cotterill, Editor-in-Chief
DPAA, the global trade marketing association, driving the growth and digitization of out-of-home media today and its growing role in the omnichannel mix, announced this week that A Beautiful Noise: The Neil Diamond Musical will open this year's Global Summit on October 10 at Pier 60 in Chelsea Piers.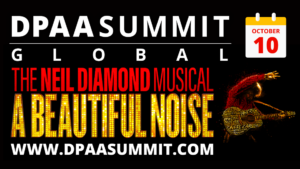 Created in collaboration with Neil Diamond himself, A Beautiful Noise is the uplifting true story of a show-stopping American icon. Diamond's many hits include "America," and of course "Sweet Caroline." He has sold 140 million albums and is in both the Songwriters and Rock & Roll Hall of Fame. 
"Broadway has always leveraged out of home and so its fitting that we once again have an iconic Broadway show and one so close to the heart of New Yorkers open our Summit and be part of Out of Home New York. Another great reason for everyone to come to New York and the DPAA Summit on October 10" said Barry Frey, President & CEO of DPAA. 
This year's summit features great global brands McDonald's, Pepsi, Mastercard, Danone and others. The summit draws over 900 delegates from all over the world and includes fireside chats, presentations and networking in the extensive exhibit area with evening cocktails on the Hudson River. 
The DPAA Global Summit – Omnivideo is part of Out of Home New York (formerly New York Digital Signage Week) which takes place from October 9 to 13.
The week will be the usual heady mix of FREE and PAID for events – conferences, showcases, cocktails, open house, breakfast debates, tours and other ad-hoc activities.
A DSF Regional Mixer, the DPAA VIP Newsmaker Dinner,, the DPAA Global Summit, the Sony Professional Display Solutions Roadshow, AdTECH: OOH – New York, SOLOMON Cocktails, OAAA Cocktails, XUSC Jazz & Cocktails and a Daktronics NYC Partner Appreciation Reception are just some of the events that are already scheduled to take place that week.