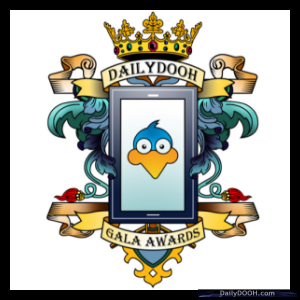 Start spreading the news, the DailyDOOH Gala Awards, which recognises excellence and promotes best practice in the industry takes place Thursday October 14, 2021 in New York, New York has announced their FINALISTS.
They wanted to wake up in a city that never sleeps and find that someone (other than DailyDOOH) was king of the hill so it made sense that their Black Tie and those vagabond shoes that were longing to stray would party at the Edison Ballroom during New York Digital Signage Week.
Here are the FINALISTS:-
Best Corporate or Hospitality Install

AT&T Discovery District | SNA Displays
Gensler Austin's Lobby | SNA Displays
Nashville 5th + Broadway | Pearl Media

Best Shopping Mall

90 Degree Display | blowUP media
Max Center | NECSUM TRISON
M Plaza | NECSUM TRISON

Best Airport Install

San Francisco Airport | Trueform Digital
Evenflow Crowd Radar | YCD & Synect
TSA Security Checkpoints | YCD & Synect

Best Transport Campaign

Salvation Army Rescues Christmas | Intersection
COVID Response Program at MCO | YCD & Synect
Verizon 5G Launch | Firefly

Best AdTECH Campaign

Thorne Olympics | ADOMNI
FOX Masked Dancer | Vistar Media
Stake Mobile App | Vistar Media

Most Innovative Use of AdTECH

Tourism Tasmania | Vistar Media
Nespresso Store Boost | VIOOH
COVID-19 Dashboard | Hivestack

Most Effective Use of Data

Ghost of Tsushima | VIOOH
Nespresso Store Boost | VIOOH
Foursquare Crowd Management | Intersection

Most Innovative Use of Data

Twitch | Vistar Media
Renault ZOE | VIOOH
Gifs of Time | OUTFRONT Media

Best Digital Place Based Media Campaign

PERONI Domination at Long Beach | KEVANI
Orb Digivans | Buyers & Sellers Media
Hulu and Animaniacs | Firefly

Best Use Of Social Media

Naughty or Nice | Outfront Media
Gymshark Billboard | Buyers & Sellers Media
Wall Street Bets | BLIP

Best Digital Out of Home Campaign

Ford Los Angeles Domination | KEVANI
Piaggio Fast Forward | Vistar Media
Gymshark Billboard | Buyers & Sellers Media

Best Original Digital Billboard

THE TOWERS® Los Angeles | KEVANI
NEO Transparent Screen | blowUP media
Stylon Reflecting Pond Display | SNA Displays
If you want to be a part of it and find out live and in-person who is number one, top of the list, head of the heap, king of the hill and you want to be part of New York Digital Signage Week's 10 year anniversary celebrations as we prepare to make a brand new start of it in old New York after all, if you can make it there, you can make it anywhere then please speak to russ@ministryofnewmedia.com about buying your own table.