Russ Curry, Ministry of New Media
For several years now, Lunch With Samsung has always kicked off New York Digital Signage Week and this year was no different with three industry experts; Jack Panico, Ridgewood NJ Beauty Salon 'Panico' Beauty/Wellness, Inovshop Group's Matt McCloud and Samsung's Chris Martins taking to the main stage.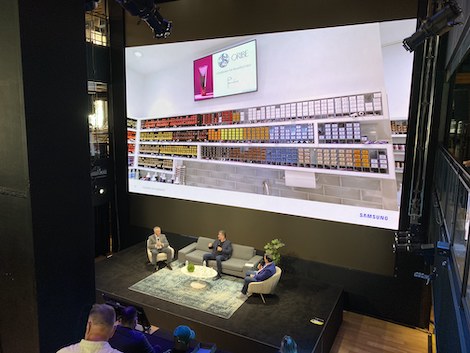 They discussed digital signage (all SOC), tablet and other screen technology solutions developed with Samsung and Info Shop for the salon and how that elevated the customer experience. It also helped them improve their business operations, improve retail and convert customers to additional services offered in the salon.
Ridgewood NJ Beauty Salon "Panico" Beauty/Wellness are a Samsung partner for in salon digital signage
Inovshop Group develop tools for retailers to drive better consumer experiences and revenue through digital technologies.
Interestingly that LED video wall shown behind them above is 25ft in diameter and an amazing 1.2mm. This was installed during the forced break by #Covid19 and Samsung say it's one of the largest of that pitch in the country.