Gail Chiasson, North American Editor
The Digital Signage and Digital Out-of-Home industry around the world will be saddened to hear of the recent passing of James Fine, president of Montreal-based, multi-award-winning, Telecine.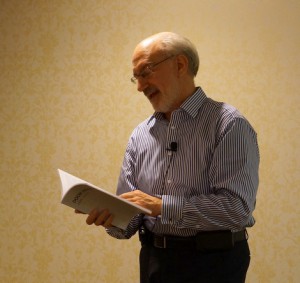 James's death, after a short illness (non-Covid-related) was untimely and unexpected. One of the most talented, as well as kind, good-natured, men in the industry, he started his career as a wedding photographer, but by 1996, he was president of Telecine, providing customized solutions for all types of industries in Canada, the U.S., Europe, Asia and Africa.
One of his earliest award-winning projects was for Bloomberg's Manhattan headquarters. He and his company went on to handle digital products of all types for media firms, banks, airports, and various companies worldwide, including in the U.K., Dubai and Nigeria. James was the main feature in our book 'DOOH Insights, Volume 3' after he became the second ever recipient of a Lifetime Achievement Award, presented at The DailyDOOH Gala Awards in December 2014.
He and his life partner for 30 years, Chantal Bilodeau – herself an accomplished interior designer – met as divers and in recent years, when possible, sailed the world in a yacht that was totally equipped for his work and in full contact with staff and clients. In Montreal, where they lived above the company offices, James and Chantal welcomed clients and friends from around the globe.
Learned and always learning, James developed and encouraged an accomplished, talented staff who will continue to run Telecine, his sister Debbie, told us. However, she said that it was up to Chantal – unavailable when we spoke – to tell us who will take over the role of president.
A special fund in Fine's memory has been set up at Montreal's Jewish General Hospital, and contributions in his memory are welcome here.
Adrian Cotterill writes "If you want to put a smile on your face as you remember this extraordinary gentleman then have a look at 'James Fine & Telecine Celebrate An Evening Of Friendship' and 'A Mighty Fine Man'".