thorndyke, a verification platform for digital out of home measurement, data and analytics, this week released its State of the Nation – DOOH Verification Report for Q1 2022, analyzing media quality and insights from across the ANZ market.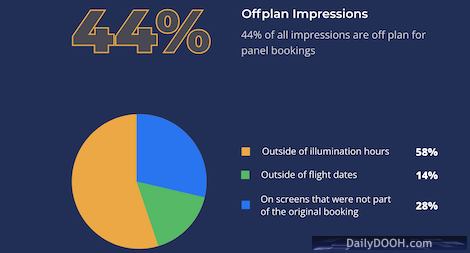 Jason Cooper, MD at thorndyke. told us "We've seen DOOH spend coming roaring back following the last couple of years of lockdowns and restrictions following COVID. People are out and about and coming back into offices and we see that by the increased spend in OOH over the last few quarters" said This is the first time the market has seen a media quality and verification report for DOOH. These insights are important as it will help guide conversations with the media owners around delivery & accountability. And for brands and agencies, it serves as a guide when looking into media buying negotiation and campaign delivery; what to look out for, behaviours that are unique to the OOH and how to plan around them."
Key findings from the report:
44% of impressions are off plan (outside planned day, time, location, screen..)
58% of off plan impressions are outside of illumination hours e.g. 2am in a shopping mall
16% of campaigns are overdelivered
28% of off plan impressions are on screens that were not booked
This is the first report of its kind that specifically looks at verification inside the DOOH environment and considers impressions delivered across the entire first quarter of 2022. You can download the report here.