Adrian J Cotterill, Editor-in-Chief
In celebration of Pride Month, and as part of Lamar Advertising's ongoing support for the LGBTQ+ community, they are once again sharing a message of acceptance, equality, and tolerance on its national network of digital billboards.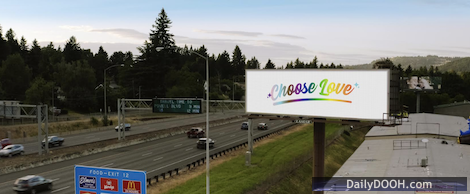 Sean Reilly, CEO of Lamar Advertising told us "Inclusion and equality have always been hallmarks of the culture at Lamar," said "We profoundly believe in treating every person with respect, kindness, and tolerance. We are hopeful that the message we are proudly sharing on our digital billboards throughout the month will remind and inspire all to do the same."
Throughout June, Lamar will display the simple message of 'Choose Love' on more than 390 digital billboards in over 55 markets across the country.