After the AdTECH: OOH – Sydney Conference last Wednesday there was a pressing need to get to the bar but here are some thoughts that I wrote down the day after in order to wrap up.
I also wanted to share just a few of the MANY pearls of enlightenment that I personally took from the afternoon.
Firstly, thanks to all the 150+ attendees, and the sponsors and partners; the Outdoor Media Association (OMA), Broadsign, Hivestack, Seedooh and VMO (Val Morgan Outdoor) and of course a big thanks to all our speakers:-
Jason Scott and Belinda Cooper, the MiQ keynote was informative, insightful and inspiring, in terms of what may be achievable in a world where cookies are less available and all manner of connected Time and Place data can elevate #OOH as an accessible, additive option for targeted and measurable programmatic investment.
Max Eburne, Emma Hegg, Luke Hutchinson and Grant Guesdon, the update and discussion of how and why the OMA and OFC have put in such a monumental effort, over a TWO year period, to take the sector from a battleground to solid ground was my favourite panel. I think it's my inner-nerd that particularly appreciates the achievement of such critical alignment, on such important foundations, at such scale. My other take out "there's still SO MUCH to do" but the bedrock is established, so it's less 'daunting' and more 'exciting' now.
Speaking of excitement, Gai Le Roy and Ben Allman's sneak peek at the IAB Australia Industry survey of attitudes to programmatic DOOH was brilliant (you can also see a video, recorded before the conference, of the pair of them discussing the state of the nation report here)
The following panel discussion about where we're 'at' with pDOOH easily won the 'most talked about in the bar' award. Thanks Pia Coyle, Clare Tsubono, David Sutherland and James Bayes for creating everybody else's favourite panel – understandably so! Forthright conversation at that level is uncommon and I am glad I was there to hear it. Bravo. My take out: pDOOH is not a silver bullet, certainly not yet, but it has tremendous promise and an opportunity to prove itself worthy of all the hype… and for some people, it already has.
I could have listened to Neil Ackland and Uber's Andy Morley talk about OOH creative all day. What a treat to hear from true believers, people who really know from experience that OOH works and are making such concerted efforts to make it work even harder. Scotch, not water next time for sure and a personal big thanks to them both for making time to share your thoughts and passion> I look forward to seeing more of your inspiration on billboards, signs street furniture and posters near me in the future.
In the second fireside chat of the afternoon; it was great to hear some more about what Sightline and Hivestack are up to locally and overseas with our regular conference speaker Matt Bushby and James Lambert and how they are helping so many brands explore the potential of pDOOH. They really do seem to be the folks who are most pioneering.
And finally our guests from New Zealand, Jack Plowright and Chloe van Diepenbrugge Ithe audience I know really appreciated you sharing LUMO Digital Outdoor's progressive position on; how publishers should push boundaries to prepare for the future, how you have put much of this into action already, and how our New Zealand cousins are thinking about and embracing the DOOH future.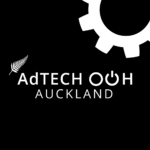 The Ministry of New Media have their own YouTube playlist here which contains some of the early video from before the Sydney event AND within the next week or so will contain some of the video shot at the conference.
They are also planning AdTECH: OOH – Auckland which they hope will take place as early as February 2023.