Adrian J Cotterill, Editor-in-Chief
Destination Media, the largest location-based digital video company and owner and operator of GSTV, and Ara Labs (formerly Cargo), a company building a nationwide network of digital advertising displays, have announced a new partnership for the deployment of digital advertising experiences at select ChargePoint electric vehicle (EV) charging locations in the U.S.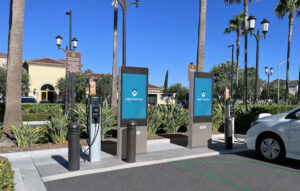 Sean McCaffrey, President and CEO of Destination Media told us "As the number of EV cars on the road increases and consumer adoption grows, ad-supported business models will play a key role in driving the evolution of consumer transportation. Brands now have the unique opportunity to appear on a platform that is growing to follow consumer behavior, reaching a high volume of consumers at a key moment in their day as they charge and shop. The deal opens an entirely new avenue of opportunities for marketers."
Deployments at select AC and DC fast-charging locations within the ChargePoint network will offer an enhanced driver experience with compelling content on high-resolution, large-format networked screen hardware.
The aim is for the deployments to give retailers new revenue streams and provide valuable opportunities to engage and inform customers while they shop. The partnership helps expand the industry-leading ChargePoint network with digital video advertising that offers retailers another opportunity to bring cost effective charging to the locations that align with consumers' daily journeys and where needs are the greatest. For advertisers, the deployments will offer separate screens and networked charging, providing flexibility for screen placement that will maximize media value and efficacy at each retail location.
Jeff Cripe, CEO at Ara Labs said "Retailers now have increased opportunities to engage consumers while they fuel and scale their networks. This deal will result in more screens at the most optimized locations, allowing for better customer and advertiser experiences. We're excited to partner with the two best-in-class networks in EV charging and location-based media to provide a turnkey, fully-supported, and rapidly scalable media display network."
Destination Media will provide content, manage distribution, and develop all media sales and marketing activity. Ara Labs will own and operate the digital displays.